Comic about after an audit, a team is told that until they purchase a segregation of duties (or separation of duties) solution, they must hold hands and press the transmit button together.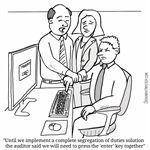 Audit cartoon showing showing a woman being treated like police are performing the internal audit. Financial audit comic.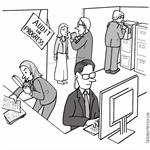 A gag cartoon showing a man in front of a pie chart that demonstrates the majority of their time is used logging their time and preparing time reports. Comics for social media.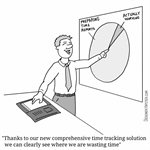 Cartoon of a man, standing up and shouting Don't touch anything until the auditors leave. Financial audit comic.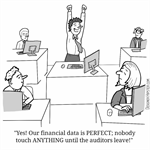 Auditors are reviewing the audit findings with a client. They tested internal controls marking failed ones red and irrelevant ones yellow. Audit comic. Orange ones.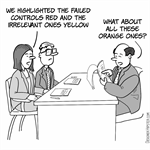 Having a meeting when the project is complete because the meeting is scheduled on the calendar for the rest of the year. Meeting cartoon. Office comic.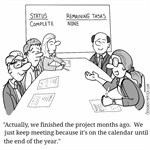 At what point does penetration testing turn into hacking? This cartoon shows a concerned boss asking a penetration tester of they are almost done. IT Audit comics.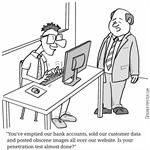 Multiple occurrences of a charge of the same amount on the General Ledger GL. Auditing GL for repeating debits or credits. GL Cartoon.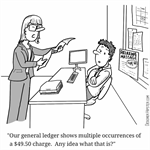 Cartoon of a woman presenting a disaster recovery plan to the office. A man asks, what about Firenados. Disaster recovery plan comic about risks of fire, tornado, earchquake, flood. But not firenados.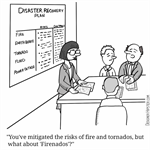 Pen test cartoon. Boss next to auditor performing a penetration test. He says, "Can you make the penetration testing stop. I think we've been penetrated enough!". Audit cartoon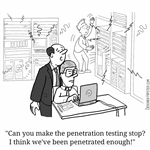 During an IT audit, an auditor is informing the client that hanging a backup tape from a flag pole does not constitute offsite storage. The man asks if making the pole longer would make any difference. Accounting comics. Audit comic.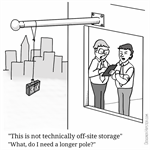 Value-Add to an audit report. Auditor gives report to client with money taped to the cover. He comments on the Value-Added. Audit comic.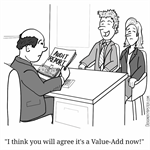 Cartoon showing auditors reviewing the internet history of an employee. They say, Oh yeah, didn't we mention the audit includes internet history. Audit comic.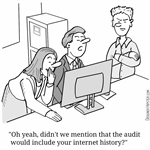 Old financial system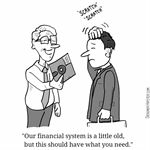 Legacy financial system cartoon. Two men look at an old computer with floppy disks scattered around. Calls it a bit legacy. Comic.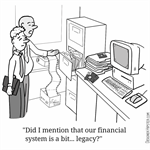 Heisenberg Audit Firm confusing testing internal controls with Uncertainty Principle. He said they couldn't observe internal controls and rate their effectiveness at the same time. Audit comic.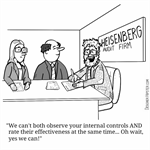 Comic making fun of Advanced Persistent Threat where a man bangs his head against the computer. The boss stands behind observing and remarks that he's not advanced but certainly is persistent. APT comic.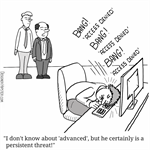 Cartoon with business leader tells auditor he is concerned with why they purchase his services when they haven't had a significant issue in years. Audit comic.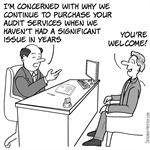 A business man sitting at a desk with his face pressed against a monitor. Comics for presentations and newsletters.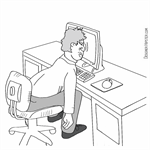 Multi-factor authentication cartoon. 17 factor authentication. Man at his office holding his eye open for retinal scan. Palm scanner. Card reader. Two-factor comic.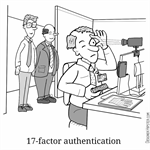 Cartoon about Advanced Persistent Threat. This APT comic depicts a man panicking trying to figure out what advanced persistent threats are.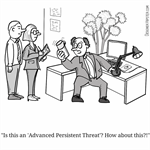 Cartoon showing a tax preparation accountant asking his clients why they would trust tax software when they could pay him to trust it for them. Tax filing comic.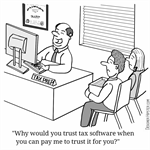 A notepad, pencil, eraser and calculator. Accounting comics.