Doctor & Medical Cartoons
Paleo Diet gone a bit too far cartoon. Paleolithic diet comic showing a couple eating lunch, when one of them grabs a bird to eat.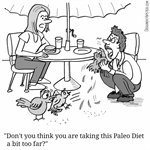 Critical updates cartoon showing doctors performing an operation when their computer starts installing updates. In the middle of surgery the computer reboots. Medical comic.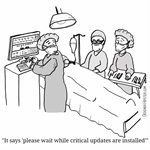 A gag cartoon where an overweight man tells his doctor the excuse that he is big boned. The doctor reviews his x-ray and informs him his bones are a normal size, he's just fat. Comics for presentations.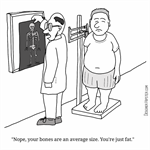 Cartoon with boss asking employee to go home sick. The employee responds, why waste a sick day being sick. Sick day comic.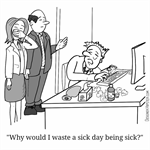 Ultrasound comic where a nurse has the monitor set to a monster movie.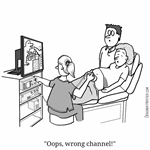 Doctor professionalism comic where a doctor is shocked while examining a patient. He calls for his colleagues to come and see. Medical cartoon.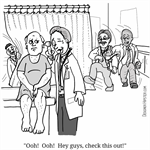 Gag cartoon where a man visits a doctor with a chainsaw stuck in his shoulder. The doctor asks him what seems to be the problem. Funny doctor comics.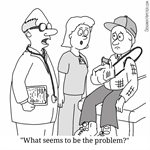 Cartoon showing a man being put in an ambulance. His insurance agent is with him. He tells him his arm and leg will cover the premiums, but they still need to discuss his deductible. Health insurance comic. Car crash.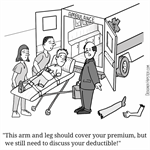 Psychiatrist comic showing a doctor asking a patient if they have any friends. The patient refers to their Facebook and Twitter friends. Mental health cartoon.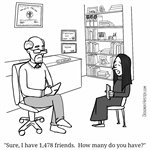 A cardiologist is advising his heart patient against looking at his medical bill. Medical comics.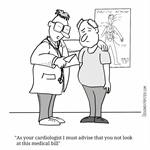 A woman sitting on an exercise ball curling a dumbbell. She is demonstrating the importance of exercise for people who spend their days sitting at a desk. Health comics.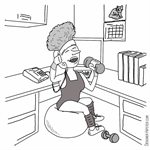 Scientist reading his horoscope. Science and pseudoscience comic.