Comic about after an audit, a team is told that until they purchase a segregation of duties (or separation of duties) solution, they must hold hands and press the transmit button together.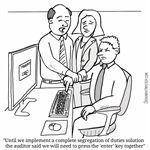 Audit cartoon showing showing a woman being treated like police are performing the internal audit. Financial audit comic.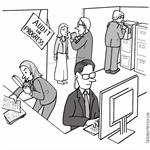 A gag cartoon showing a man in front of a pie chart that demonstrates the majority of their time is used logging their time and preparing time reports. Comics for social media.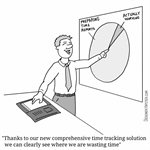 In the introduction to a meeting, the leader acknowledges that the agenda will be ignored and the topic will stray. Comic for social media.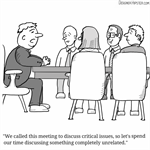 Awkward meeting cartoon. Comic showing a woman in a meeting with several men in suits. She has an awkward look on her face. Office cartoon.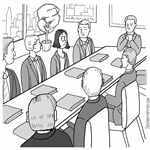 Cartoon of a man, standing up and shouting Don't touch anything until the auditors leave. Financial audit comic.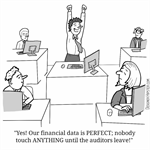 Auditors are reviewing the audit findings with a client. They tested internal controls marking failed ones red and irrelevant ones yellow. Audit comic. Orange ones.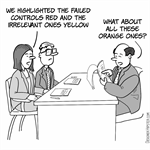 Having a meeting when the project is complete because the meeting is scheduled on the calendar for the rest of the year. Meeting cartoon. Office comic.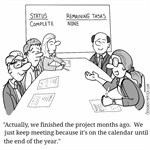 Paleo Diet gone a bit too far cartoon. Paleolithic diet comic showing a couple eating lunch, when one of them grabs a bird to eat.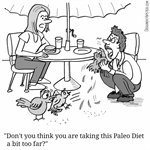 A gag cartoon showing a leader informing his team that rather than spend money on re-designing the company's website to be responsive, they were instead going to recommend all of their customers buy mobile devices the size of a monitor. Black and white comic.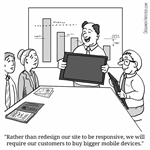 Maybe we shouldn't go around the table introducing ourselves. Meeting cartoon.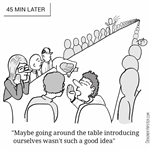 Whimsical cartoon comparing a week to children riding their bicycles. On Monday they carry their bikes. By Wednesday they can ride their bikes. And by Friday they are picking up speed and enjoy an exciting ride through the weekend, which flies by. Then they start over again. Comics for social media.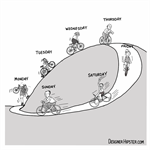 At what point does penetration testing turn into hacking? This cartoon shows a concerned boss asking a penetration tester of they are almost done. IT Audit comics.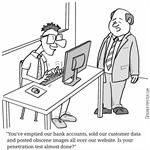 Multiple occurrences of a charge of the same amount on the General Ledger GL. Auditing GL for repeating debits or credits. GL Cartoon.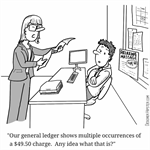 An office of software developers tries ninja uniforms to help them be more agile in their software development. Software development comics.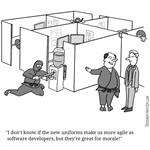 Man wearing blue jeans to the office on Thursday, instead of casual Friday. The others in the office are shocked he would ignore the dress code. Office comics.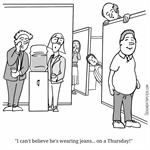 Cartoon of a woman presenting a disaster recovery plan to the office. A man asks, what about Firenados. Disaster recovery plan comic about risks of fire, tornado, earchquake, flood. But not firenados.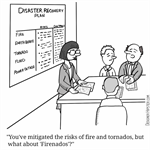 Pen test cartoon. Boss next to auditor performing a penetration test. He says, "Can you make the penetration testing stop. I think we've been penetrated enough!". Audit cartoon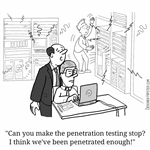 Cartoon showing a boss stands in front of his software development team and informs them that their IT training budget has been cut again this year. They are to receive instead an old travel brochure. IT training budget comic.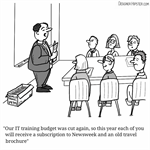 During an IT audit, an auditor is informing the client that hanging a backup tape from a flag pole does not constitute offsite storage. The man asks if making the pole longer would make any difference. Accounting comics. Audit comic.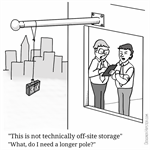 Cartoon mindfulness meditation used in an office setting to increase productivity. One of the people meditating falls asleep. Meditation comic.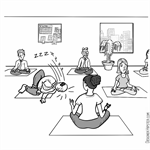 Comic about telecommuting.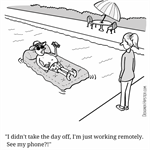 Value-Add to an audit report. Auditor gives report to client with money taped to the cover. He comments on the Value-Added. Audit comic.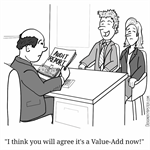 Time efficiency cartoon. Boss points to a graph showing most time spent in meetings. He asks for any ideas on how to be more efficient with time. Time management comic.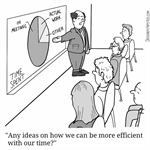 Cartoon showing auditors reviewing the internet history of an employee. They say, Oh yeah, didn't we mention the audit includes internet history. Audit comic.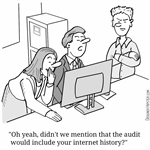 Old financial system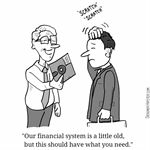 Critical updates cartoon showing doctors performing an operation when their computer starts installing updates. In the middle of surgery the computer reboots. Medical comic.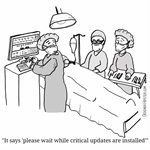 A man giving a presentation stands in front of a large group of people with one of his slides projected behind him. He tells the audience that he intends to read each of the slides to them and that he has nothing to offer beyond what is on the slide. Comics for presentations.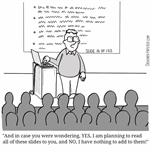 Legacy financial system cartoon. Two men look at an old computer with floppy disks scattered around. Calls it a bit legacy. Comic.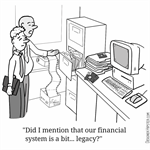 Heisenberg Audit Firm confusing testing internal controls with Uncertainty Principle. He said they couldn't observe internal controls and rate their effectiveness at the same time. Audit comic.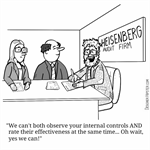 Comic making fun of Advanced Persistent Threat where a man bangs his head against the computer. The boss stands behind observing and remarks that he's not advanced but certainly is persistent. APT comic.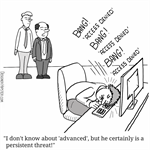 Cartoon with business leader tells auditor he is concerned with why they purchase his services when they haven't had a significant issue in years. Audit comic.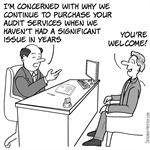 A business man sitting at a desk with his face pressed against a monitor. Comics for presentations and newsletters.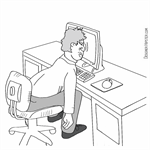 Multi-factor authentication cartoon. 17 factor authentication. Man at his office holding his eye open for retinal scan. Palm scanner. Card reader. Two-factor comic.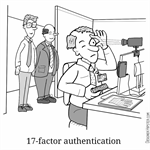 A gag cartoon where an overweight man tells his doctor the excuse that he is big boned. The doctor reviews his x-ray and informs him his bones are a normal size, he's just fat. Comics for presentations.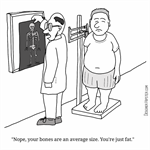 A meeting where the leader is telling the team, that regardless of the results of a marketing analysis, they will go forward with a project. Business comics for social media.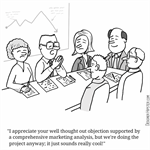 A gag cartoon where a leader is explaining to his team the obvious fact that success will come from finding something that makes money, then doing that thing over and over again. A business comic.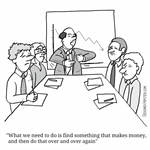 Two business men watch as a dump truck filled with a ton of coders empties the programmers onto the street. They remark that this will put their project back on schedule. This demonstrates the mythical man month principle. Project management comics.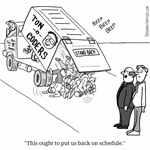 Cartoon about Advanced Persistent Threat. This APT comic depicts a man panicking trying to figure out what advanced persistent threats are.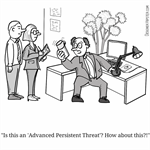 A man not allowing someone to piggyback and not swipe their security badge. Demonstrating the importance of each person swiping their badge. Great for demonstrating restricted physical access controls. Comics for newsletters. Security of Assets.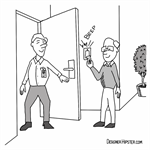 A gag cartoon about identifying stakeholders. Using the pun steak holder, a man stands holding steaks in the air amid a group of business people. Comics for presentations and newsletters.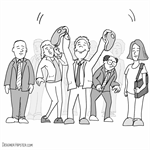 Grumpy looking man tells a coworker that he hasn't heard a word she's said since her finger touched his monitor. Social media comics.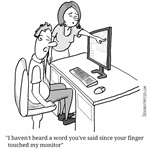 A man eating really smelly food, limburger cheese sandwich, at his cubicle is stinking up the office. People in cubicles nearby are gagging. Funny business comics.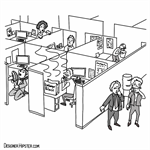 Cartoon with boss asking employee to go home sick. The employee responds, why waste a sick day being sick. Sick day comic.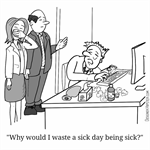 A man is on Facebook complaining about the meeting he is in when he is informed that the computer he is using is actually the projector PC for the conference room. Office comics for presentations.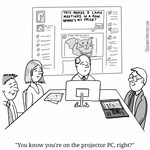 Cartoon of Sisyphus rolling a stone up a mountain alone watching a group carrying a stone run past. A demonstration of how teamwork is better than going it alone.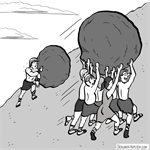 Motivational poster. Back to work or you're fired. Successories comic.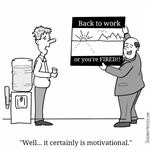 Speaking to an IT professional, pointing to a graph and asking why sales aren't moving to the cloud since everything else is. Business comics. Up and to the right.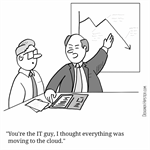 A gag cartoon showing a woman who redesigned a company website using responsive web design as she understood it. The website was actually talking to the user. It is a joke about responsive design. Comics for newsletters.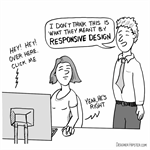 Ultrasound comic where a nurse has the monitor set to a monster movie.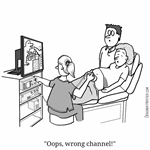 Doctor professionalism comic where a doctor is shocked while examining a patient. He calls for his colleagues to come and see. Medical cartoon.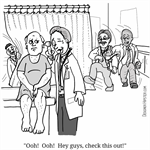 Sexual harassment situation where women are sexually harassing a man. While he bends over to pick up a box of paper, they overtly gawk at his backside. Comics for newsletters.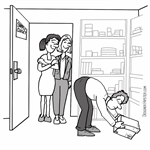 Cartoon showing a tax preparation accountant asking his clients why they would trust tax software when they could pay him to trust it for them. Tax filing comic.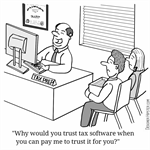 Leader begins his presentation by apologizing for twerking at the office party. Business comics for social media.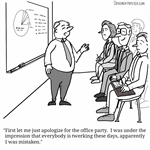 IT physical security cartoon showing a man in prison issued clothes carrying a computer past a security desk. He waves to the security guards. IT Physical Security comic.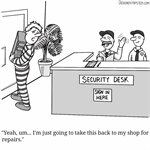 Virtual assistant cartoon of a business woman talking on her cell phone at a cafe requesting a document be sent to her virtual assistant's virtual assistance. Virtual assistant comic.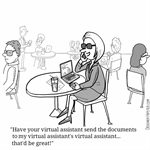 A notepad, pencil, eraser and calculator. Accounting comics.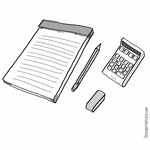 Lottery ticket office prank gone wrong. Man knocks papers off his bosses desk as part of a dramatic exit upon winning the lottery. Office prank comic.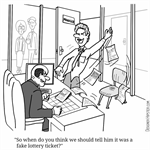 Cartoon showing people in an office fighting over reserving days off on the new vacation calendar. Office comic about requesting days off.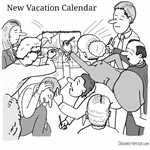 Gag cartoon where a man visits a doctor with a chainsaw stuck in his shoulder. The doctor asks him what seems to be the problem. Funny doctor comics.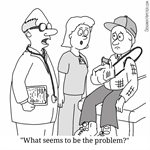 Cartoon showing a man being put in an ambulance. His insurance agent is with him. He tells him his arm and leg will cover the premiums, but they still need to discuss his deductible. Health insurance comic. Car crash.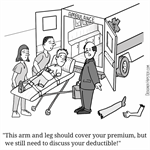 A man gloriously stands on his desk as a beacon for all in the office to rise up and remove their shackles. Papers are thrown in the air and some are frightened. Comics for presentations and newsletters.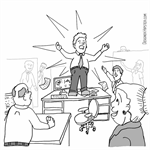 Cartoon of a boss angry with his IT employee because he is out of coffee. He wonders why with all the computing power, he still ran out of coffee. Coffee comic.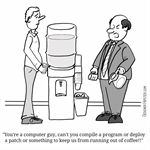 A man reads an e-mail which was sent to him and copied-in (cc:) all of North America. In it, he is being corrected by someone for misspelling 'tactful', which is ironically exactly what the writer is lacking by including all of the people on the e-mail.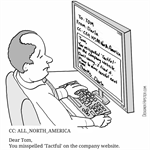 A man demonstrates wearing his ID badge where it is clearly visible. Emphasis is used to show how visible his Id badge is placed. Business comic for newsletters.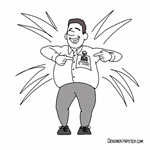 Data security cartoon. Your data wouldn't be secure if you could access it. Security comic.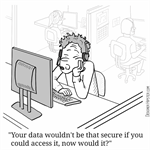 In a meeting, a new app is presented that does nothing but display a loading screen. The boss claps, he is ecstatic just to have an app in the App Store. App development comics.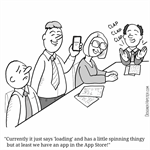 A cardiologist is advising his heart patient against looking at his medical bill. Medical comics.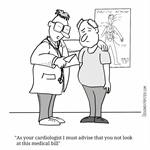 Psychiatrist comic showing a doctor asking a patient if they have any friends. The patient refers to their Facebook and Twitter friends. Mental health cartoon.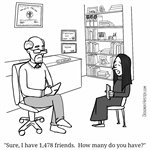 Password policy requires password be changed. Password is written down in plain sight. Password security cartoon.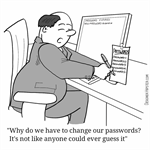 A woman sitting on an exercise ball curling a dumbbell. She is demonstrating the importance of exercise for people who spend their days sitting at a desk. Health comics.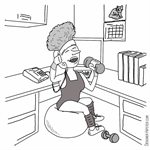 Cubicle decoration policy. Cartoon of a woman who cluttered her cube with Christmas decorations. Cubicle comic.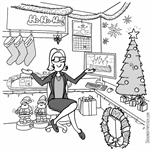 Security cartoon. Protext passwords. Password written in plain sight. Thief says how long to crack a password. Protect password comic.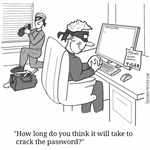 Data entry cartoon. Enter the information in the computer comic. Frustrated man yelling at boss. Office cartoon.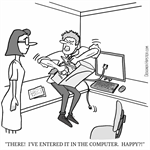 Two men at a water cooler are discussing where a coworker is going. The coworker passes by carrying golf clubs and a tennis racquet. Conferences are like company paid for vacations. Presentation comics.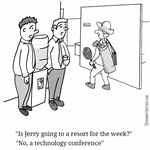 Friendly Approachable Chair cartoon. Boss sits in a throne at meetings. He wants everyone to feel as though they can come to him with any questions or concerns. Meeting comic.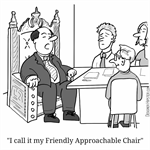 Scientist reading his horoscope. Science and pseudoscience comic.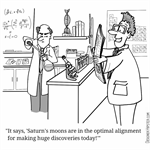 Cartoon man standing in front of two machines holding papers. The signs labeling the machines had fallen. He doesn't know which is the copier and which is the shredder. Office comic.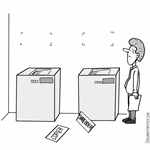 A man is caught taking a selfie at his desk when his boss walks up behind him. He is wearing a silly hat and holding a drink umbrella when he notices his boss standing behind him. He was goofing off instead of working. Silly office comics.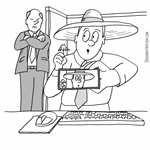 Cartoon showing a house being built using agile methodologies. 1st iteration. Scrum. Agile comic.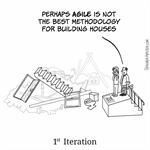 Cartoon showing a presentation with a man holding a giant floppy disk. An attendee remarks Big Data jokes never get old. Big Data comic.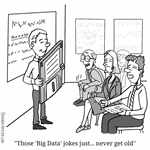 Boss wears on a female worker's shoes because she asked him to put himself in her shoes. Empathy is a critical characteristic of good leadership.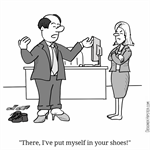 A man shows up for work in a Halloween costume only to discover he is the only one who dressed up. Halloween comic.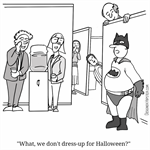 Comic showing a boss confronting an employee on what he thought was an anonymous office survey but was not. He suggested the boss "staple his bottom lip to the back of his head". Office comic.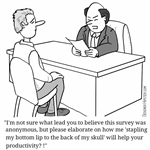 Customer survey feedback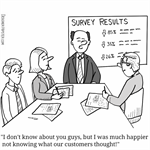 Two men stand admiring a wall of professional certifications. Name has many initials behind it. Professional certification comic.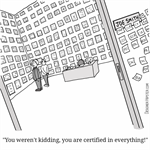 Startup crazies are young, hip, energetic, alcoholics excited to be unemployed. Entrepreneur cartoon.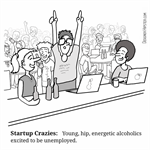 Byod - Bring your own device comic. An old man with a brick phone wants to learn about apps and how to get them on his phone.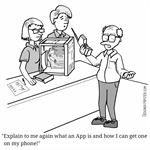 Cartoon showing a ship crashing into an iceberg. Common malicious hacking tools are written on the iceberg. Advanced persistent threat comic. Malware, keylogger, zero-day, adware, ransomware are listed. Think we can say we didn't see it coming?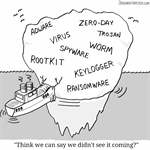 Referrer spam cartoon. Boss points to a web analytics graph showing website traffic. He says the referral spam makes the graph look fantastic. Referral spam comic.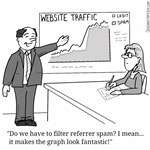 Comic showing two police officers talking to a bum. The beggar tells the police he is not begging but is crowdfunding. Crowd funding cartoon. Crowd-funding.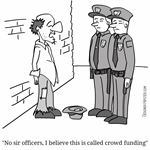 Rover with dowsing rod searching for water on Mars. Comic water witching.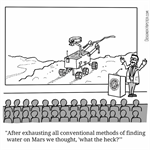 Ring display responsive design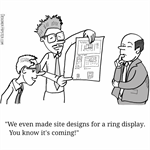 Internet of Things cartoon. Humor comic.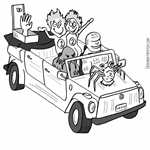 A mouse uses a dowsing rod to find cheese in a maze. His skeptical companion looks on. Pseudoscience cartoon.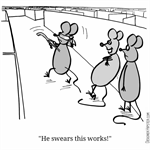 Groundhog Day cartoon. Scientist ask for more scientific method for determining long winters. Pseudo science comic.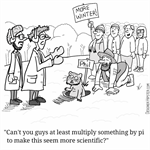 Vendor booth comic showing a woman using a fishing pole with money as bait to draw people to her vendor table. Business cartoon.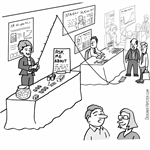 IoT cartoon. Internet of things. Volkswagen Thing, Steven King's. The Thing movie. Thing 1 and Thing 2 Doctor Suess. Fantastic Four Thing. Addams Family Thing.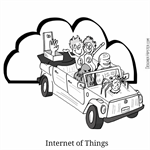 Group of professionals holding up certifications.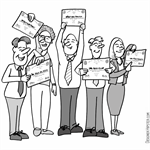 A boy stands before his class telling about his summer. He points to a map of the United States and says that he flew on an airplane but never saw any of the lines that are on the map.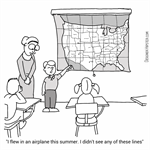 Global warming denial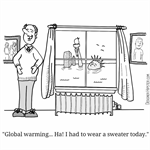 May not accept gifts over a nominal value. Cartoon showing a man refusing to accept money, tickets, golf clubs, and keys. A comic showing a government employee gifts of a nominal value.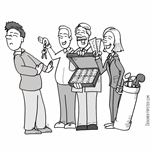 Cartoon of a woman holding a certification. Maintaining certification with continued education. PDU. Continuing Professional Education CPE. Certified comic.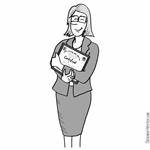 Successful business man cartoon. Raining money. Business comic.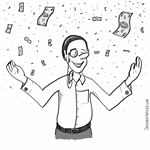 Cartoon 'Up and to the right'. A graph showing how social media is leverage to increase company profits. Social media comic. Up and to the right.